Guru Manthan – Discussions on Education
Guru Manthan is a series of 50 discussions on education by renowned educationists & thinkers. It is an initiative by Swami Vivekananda Youth Movement to promote cross-pollination of ideas that promote innovation in education.
SVYM's initiative towards capacity building of teachers, presented itself as a virtual webinar
series '50 Discussions on Education'. The weekly series engaged teachers, educators, innovators and featured distinguished speakers from the learning community. The lectures were conducted online and free for all teachers and the general public to attend.
The webinar series covers diverse aspects of education from policy to practicals, covering wider aspects of education and encouraging cross pollination of ideas. The series had a consistent following of over hundred followers.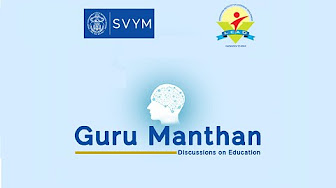 Youtube Playlist of the Webinar Series – Development Sector Dialogues