SVYM's Tribal School Alumni & Teacher recognised by the President of India
It is a matter of pride for the tribal communities, our tribal school and SVYM to be recognised at a national level platform. 
Recently, Manoj Kalkar and Shivanna, both alumni of SVYM's Tribal School, along with Umesh, an alumnus of SVYM's teacher training centre, were recognised as outstanding performers in an Open Drawing Competition held for artists from different tribes living near the Tiger Reserves across India. 
The three were invited to Delhi where they met with Smt Droupadi Murmu, the President of India, and participated in an interaction with her at the Rashtrapati Bhavan.
It is a matter of pride for the tribal communities, our tribal school and SVYM to be recognised at a national level platform. 
Manoj who also happens to be the art and craft teacher at Viveka Tribal Centre for Learning shared his experience and thoughts about preserving tribal arts in a short interview documented below.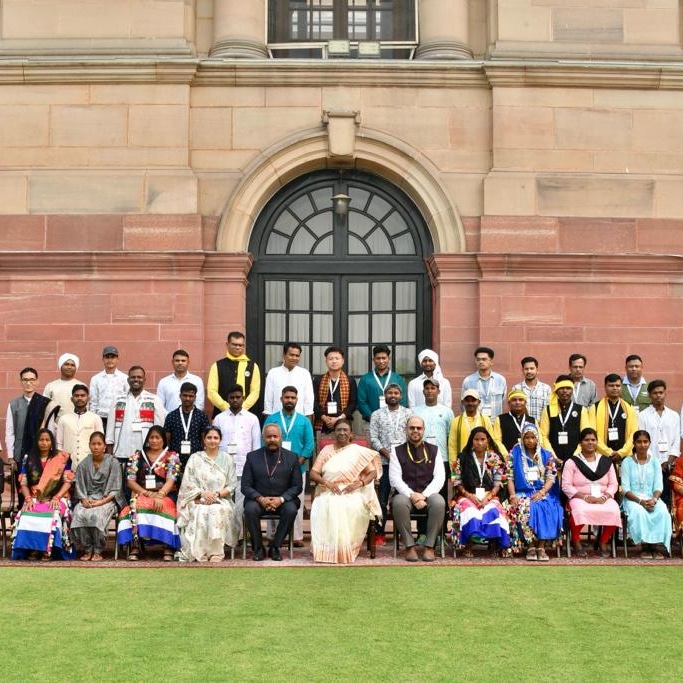 Manoj, Shivanna & Umesh standing at the middle left in the second row during a photo session with the President of India and other tribal artists at a function in New Delhi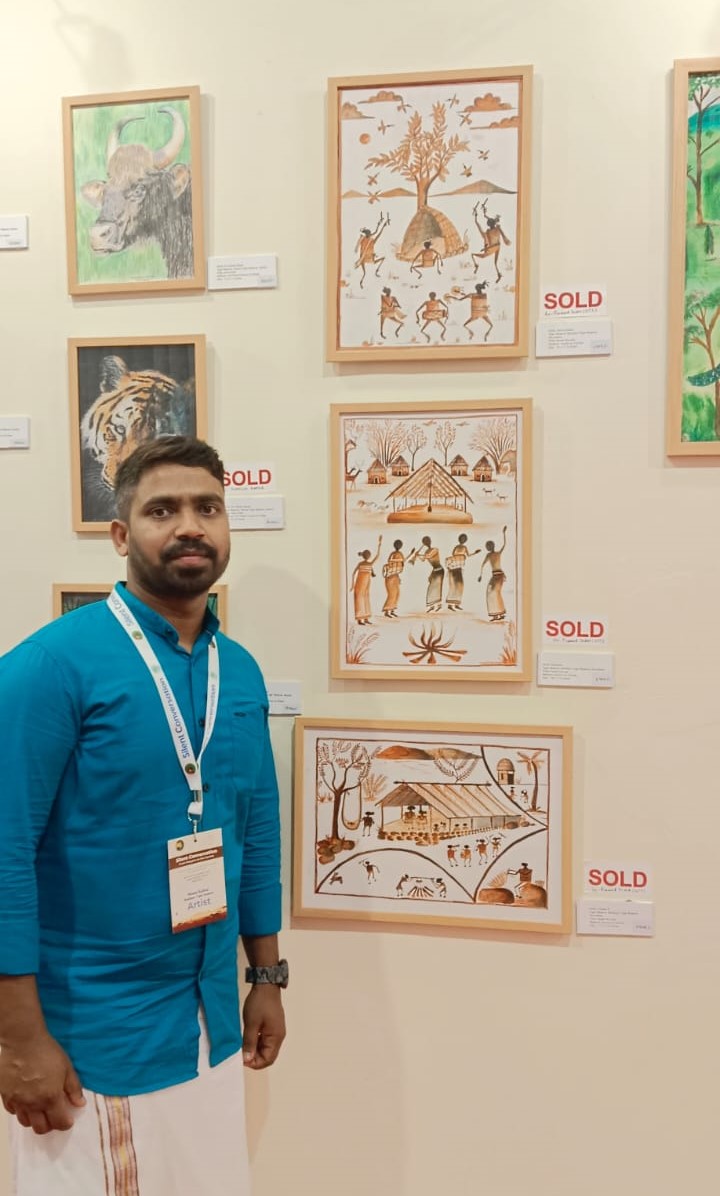 Manoj Kelkar with his paintings depicting Betta Kuruba culture at the exhibit
– Interview with Manoj –
Q:1 How do you feel after receiving the award and recognition from the President of India? 
This program was hosted by Sankala Foundation as a competition for tribal artists from all the Tiger Reserves of our country. 40 Tribal artists from 58 Tiger Reserves across India were selected.
Our President invited all the artists to Rashtrapati Bhavan. We posed for a group photo. She interacted with us in a casual way during the photo shoot. She spoke with the children in the group as well.
Q: 2 Please tell about the competition in which you participated and won. What did you draw/paint and why?
This competition was held in all the Tiger Reserves. I participated from the Bandipur tiger reserve. We were asked to paint about our culture. I chose to paint a picture about drumming the Dolu (drum instrument) and playing the Peepee (wind instrument) which is part of our betta Kuruba culture. During celebrations and happy moments we dance while playing these instruments. This cultural practice is fast vanishing. With the idea of reliving my culture; I painted this particular picture which had filled my imagination. 
In the Bandipur area, 40 tribal artists had participated. 3 among the 40 were selected and I was one of them. All 3 of us happen to have some connection with SVYM. Shivanna, like me, is an alumnus of Viveka Tribal Centre for Learning (VTCL) too, Umesh is an alumnus of the D.Ed program run by Vivekananda Teacher Training and Research Centre (VTTRC).
Even as a small child I would watch my grandparents make baskets of cane and bamboo, I would join hands with them too. You could say this was my inspiration.
 Q:3 Please tell about your love for art and craft. At what age did you start painting and drawing? Who is your inspiration?
I have always been drawn to art. Right from the third standard I would practice art and take part in competitions. I joined VTCL when in second standard and from then onwards I've participated in competitions and won prizes. In the fifth standard, I competed in a competition in Chitradurga where I won at state level. This was the highest achievement I had received until now. 
Even as a small child I would watch my grandparents make baskets of cane and bamboo, I would join hands with them too. You could say this was my inspiration..
Q: 4 Please tell about your time at VTCL as a teacher. What do you like the most?
I spend a lot of my time with our students at VTCL. We work from morning till late into the evening. During some events in the school, we pull all-nighters many times to achieve what we need to achieve. Many students too come out enthusiastically to help us. Children like to spend time with me and we have a good time together. I try to use naturally available things to decorate, for example, even to make bouquets for guests, we sometimes use the rachis of a coconut leaf. My students inspire me by their learning. They learn well and fast. I also learn a lot from them.
Q 5 How did you decide to become a teacher at VTCL? How is your experience teaching art and craft?
While I was finishing up with my masters, the COVID 19 pandemic started and I was still looking for a job. One day, I visited VTCL where the then principal Sri Kumar suggested that I teach in VTCL, where there was a vacancy. I thought about it; felt that it would be a good idea to work with the children from my community to excel in their cultural arts. I also felt that it was an honour to teach in the school that I had myself studied. So, I joined the school.
 Q6  Do you think art and dance forms are important for the tribal communities for saving their identity and customs?
Our art and dance forms are very unique to each tribe. Hence preserving them is very important. Now people are consciously trying to dress in their traditional attire and practice their culture. In many communities it has become mandatory to dress in the traditional attire during festive occasions.  All dance forms are practiced and cultivated. 
There is a realisation among the tribal people about the importance of their culture and hence the need to preserve them.
In our school, VTCL, we are doing a good job of preserving tribal culture. All children are taught the traditional dance forms and art forms. Elders are invited to come and impart this culture to the next generation. Children learn it from a very young age at school which reiterates the importance of these forms of art and culture and gives them a sense of pride. They go back home to their haadi (tribal hamlets) and practice there as well.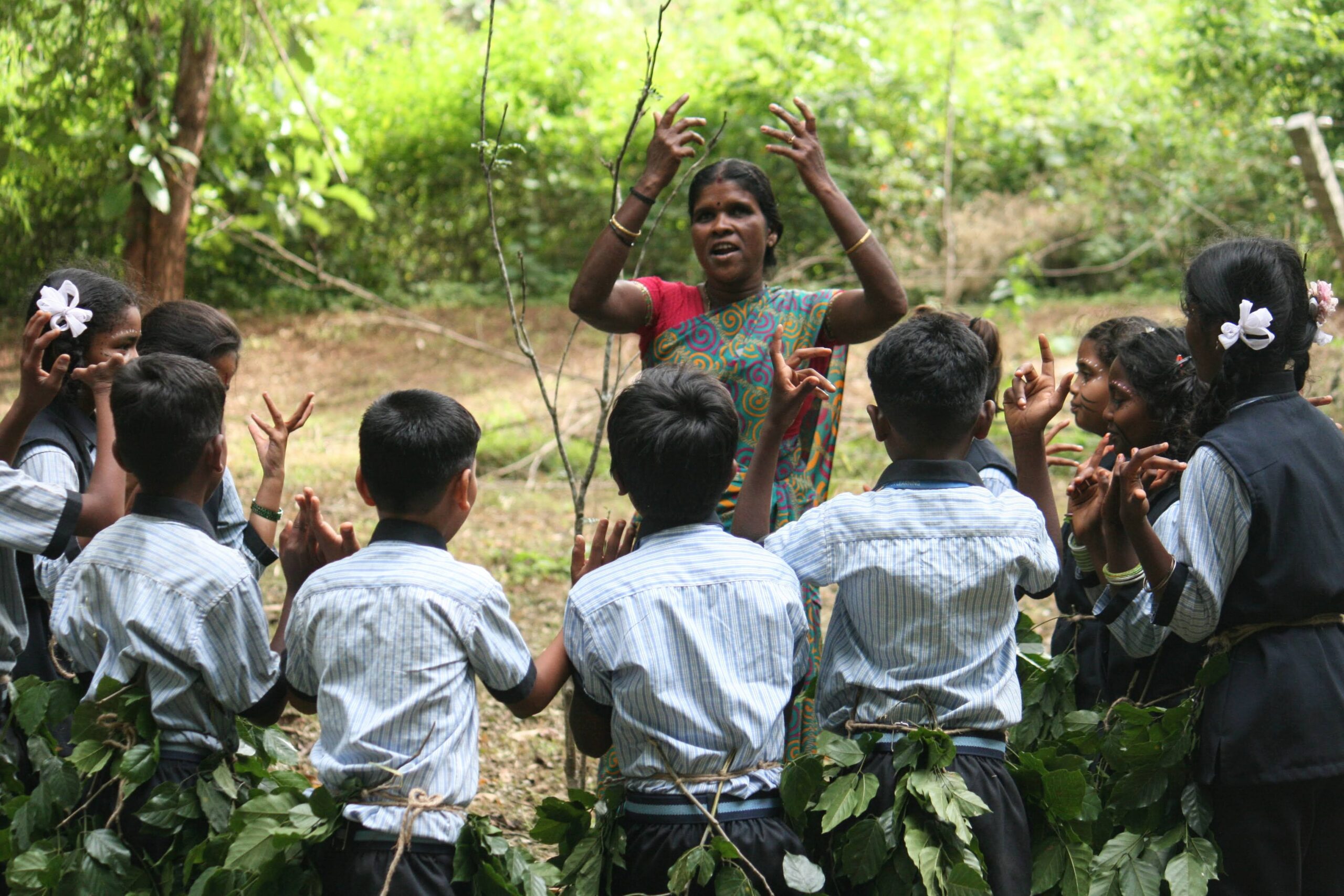 The photo taken at VTCL, SVYM's residential tribal school, is of Maara, a middle aged Betta Kuruba tribal woman joyfully dancing with the school children against the backdrop of Bandipur forest a mere 50 feet away.
The kids fashion a traditional costume made from small branches and twigs. Maara and the PT Teacher helped children make this traditional costume. All this effort to recreate a ritual that has happened for hundreds of years, inside the forest. Outside, the traditional Betta Kuruba dance in a tight circle is a synchronous attempt to preserve their identity and pass it on to the next generation. Maara and at times the wives of tribal chieftains often take upon this role.
To learn more about our residential tribal school, please click on Viveka Tribal Centre For Learning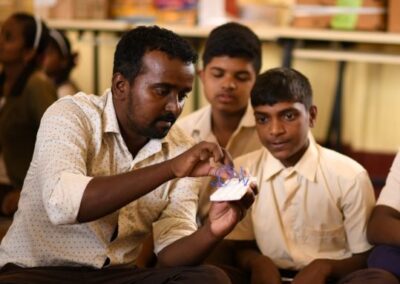 Engineers of a better tomorrow
SVYM's School Education Program is building the potential of students in rural Govt. schools. #humancapital #education #svym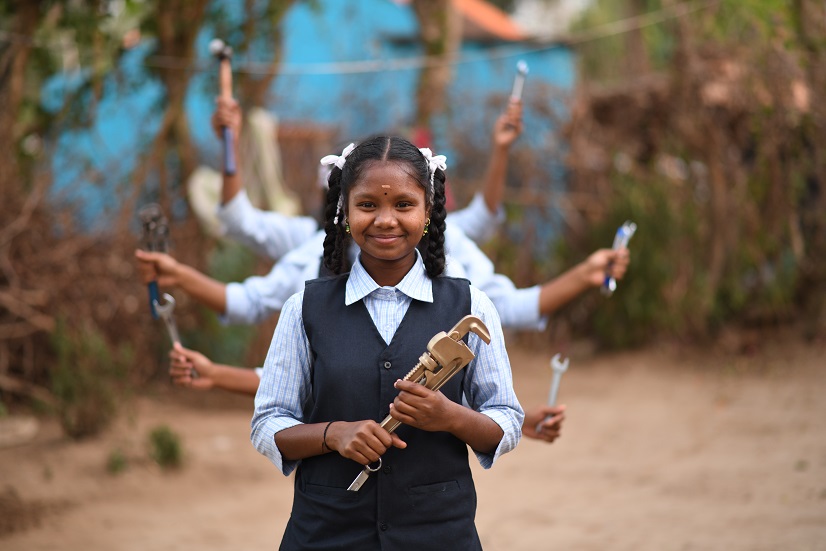 Meet the first generation STEM students
VTCL Girls are breaking the stereotypes associated with tribal girls taking up technical streams by becoming the very first generation in their families to continue education in Science, Technology, Engineering & Mathematics (STEM).